Guadalajara está lista para recibir a la tripulación de la banda escocesa Alestorm, que este próximo 7 de octubre dará un esperado concierto en el Foro Independencia como parte de su gira por nuestro país que también incluye la Ciudad de México, León y Monterrey.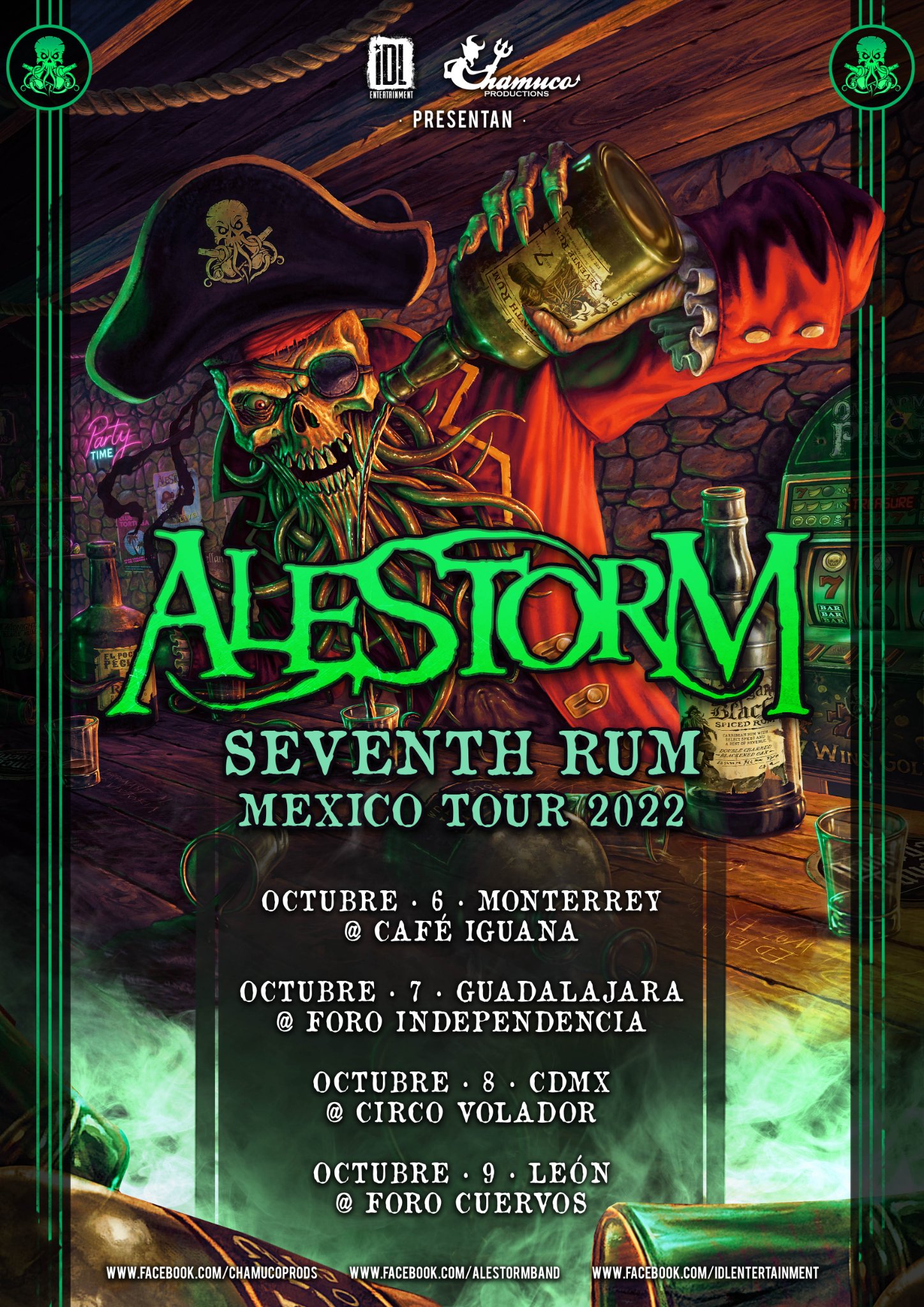 La agrupación, traída a tierras tapatías por IDL Entertaiment y Chamuco Productions, estará presentando Seventh Rum of a Seventh Rum, su más reciente producción discográfica, cargada de su distintivo sonido True Scottish Pirate Metal, mitología, actitud de verdaderos piratas y un gusto por el ron como todo buen rebelde del mar.
En este, su más reciente álbum, podemos disfrutar de 11 canciones con esa temática tan suya y una gran inspiración en Iron Maiden y su álbum de 1988 titulado Seventh Son of a Seventh Son. Entre las canciones podemos encontrar ritmos poderosos como Magellan's Expedition, Cannonball, Return to Tortuga y Seventh Rum of a Seventh Rum, canción que le da nombre al disco.
Sin duda las canciones capturan a la perfección la esencia rebelde de la banda, con fuertes cargas de folk metal, mitología pirata y la fuerza de los siete mares en cada nota. Esto marca un "regreso" a sus sonidos más característicos, después de haber explorado el mundo de los videojuegos con su producción del 2020 Curse of the Crystal Coconut, en donde su mayor inspiración fue Donkey Kong y la saga del mismo nombre.
Sabemos que todos los piratas tapatíos estarán encantados de beber, gritar y hacer headbanging al ritmo tan único de Alestorm. ¡Nos vemos este próximo 7 de octubre a las 20:00 h! Si aún no tienes tu boleto, puedes adquirirlo en la página web de arena.mx, en la tienda Bathory Boutique, o directamente en las taquillas del Foro Independencia, ubicado en Epigmenio Gonzalez #66, en un horario de 10:00 a 16:00 h.
Y para ir afinando garganta, te dejamos su más reciente video. ¡A destapar un ron y disfrutar de su nuevo material!
Loca de los gatos, la luna y los tatuajes. Amo la naturaleza, patinar y hacer reír a la gente. La clave de la felicidad está en la playa, la música y la pizza.