Cada día son más las propuestas de metal extremo en nuestra ciudad, y esta vez, ACK PROMOTE, le cumplió el deseo a los tapatíos de ver a Imperial Triumphant y Rivers of Nihil en nuestra ciudad.
Desde nuestra llegada al venue, la gente estaba preparándose con una cerveza, en el stand de merch oficial y agarrando un buen lugar para el espectáculo que nos esperaba de estas dos bandas.
La noche empezó con Imperial Triumphant ¡Qué show! El trío neoyorkino salió con su representativa máscara, quienes en escenario no se comunican con palabras, todo es por mímica y eso no es impedimento para lograr una gran comunicación y conexión con el público.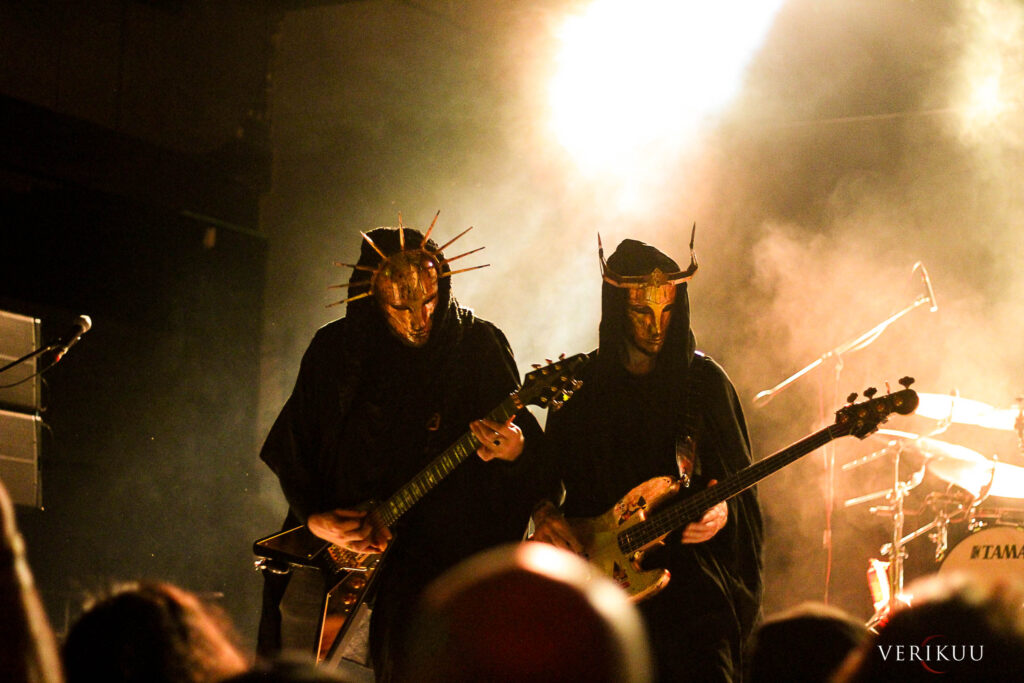 Nos llevamos una sorpresa son toda la experiencia visual y auditiva que pudimos disfurtar con su show; sus bases de black metal experimental con tintes jazz, sumado a un buen performance, nos dieron una entrada más que satisfactoria, quienes interpretaron canciones como 'Tower of Glory, City of Shame', 'Transmission to Mercury', 'Chernobyl Blues' y 'Rotted Futures'.
Ya a mitad de su set, una de las máscaras endemoniadas, sacó una botella de champaña con la cual bañó a todos los asistenes además de compartirles un poco en sus vasos vacíos de cerveza. Pero esta no fue la única sorpresa, como encore, el bajista bajó al escenario a interpretar su solo rodeado de todos los asistentes, la gente feliz no dejaba de corear '¡IMPERIAL, IMPERIAL'! y los orundios de Nueva York, dejaron el escenario con un gran agradecimiento al público.
Después de un set de una hora, todos fueron a recargar pila con otra cerveza para esperar la salida estelar de Rivers of Nihil, quienes pisaron el escenario a los 25 minutos de la salida de Imperial Triumphant. En el momento en el que el quinteto de Pensylvania empezó a salir, todos los recibieron con gritos y la euforia de poder verlos en nuestra ciudad, y es así como iniciaron con 'The Silent Life'.
¡GUADALAJARA! gritaba al público Adam Biggs, vocalista y bajista de la banda, seguido de 'Muchas gracias', y siguieron su espléndido set con 'Band Baptism', 'Focus' y 'Clean'. Una energía descomunal en el escenario, se hicieron dos moshpits en el C3 Stage, donde metaleros disfrutaron a tope el repertorio de Rivers of Nihil.
Su estilo ha destacado entre las bandas de death metal técnico, al meter algo de melodic y progresivo a sus piezas, nos trajeron un set de 8 canciones largas, como habitualmente acostumbran, en donde el público no despegó nunca los ojos del escenario.
Un pequeño encore antes de seguir, fueron llamados del nuevo al escenario con un '¡RIVERS, RIVERS'! para así interpretar una canción más, la cual, todos estábamos esperando.
Con un setlist variado, obviamente dieron un muy esperado cierre con 'Where Owls Know MY Name', canción que todo el público empezó a corear.
Al finalizar el show, se despidieron muy agradecidos de nuestra ciudad, además el baterista, bajó a tomarse fotos con los asistentes que esperaron en front row.
¡Un increíble domingo por la noche! El sonido estuvo espectacular, las luces y la energía de las dos bandas, el público una vez más satisfecho, partió con las expectativas totalmente cumplidas por parte de estas dos bandas y con sed de más bandas de metal extremo en nuestra ciudad.
Fotografías: Paja Navarro
GALERÍA DE IMPERIAL TRIUMPHANT
CEO de Verikuu. Modelo y guitarrista de hobbie. Pídele subgénero y te va a recomendar una banda. Amante de la cultura japonesa y del death metal.